North York Kitchen Cabinets | Bathroom Cabinetry in North York, ON
Welcome to Rockwood Kitchens: #1 source for Kitchen Cabinets in North York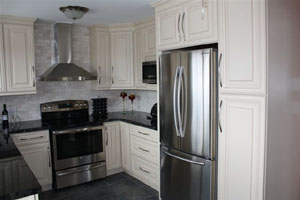 Rockwood Kitchens has been providing homeowners and general contractors outstanding quality and affordable kitchen cabinets in North York for over 5 years now. Our North York Kitchen Cabinets are of the highest quality but offered at the lowest prices! We have a number of North York kitchen cabinets door styles with many colours and over 200 pieces of each, making your kitchen design possibilities endless for your North York kitchen renovation.
While shopping for kitchen cabinets in North York, please be sure to look at our RTA cabinets and you will be happy that you did. Besides our truly unbeatable prices, you will be extremely happy with the superior quality of our North York kitchen cabinets.
Part of the reason RockWood Kitchens North York is so successful is because of our low prices on our high quality, solid wood North York cabinets and our bathroom cabinetry. We manufacture our own cabinets and therefore can offer great prices on white kitchen cabinets that can be less than half of what our competitors of North York kitchen cabinets would sell for. Come to one of our kitchen showrooms where you can compare our cabinets with other kitchen cabinet suppliers in North York to see the superior quality discount kitchen cabinets that we offer.
Great prices on North York Bathroom Cabinets
When buying bathroom cabinetry in North York, our white cabinets and espresso cabinets are definitely our most popular. We offer discount bathroom cabinets prices but offer extremely high quality cabinets that cost double as much elsewhere.
Come and see our white cabinets in North York. At RockWood Kitchens North York if you want a nice, bright and light feel to your bathroom. White cabinetry can make a smaller bathroom feel fresher and even a bit bigger with the right colour paint, quality fixtures and a beautiful granite or quartz countertop.
If high quality discount bathroom cabinets are what you're looking for then come visit our North York Rockwood Kitchens location. We are the #1 source for affordable kitchen cabinets and affordable bathroom cabinets in North York. You will not find these discount cabinet prices with such high quality products anywhere else! Talk to one of our designers today about getting your free bathroom design in North York.
Discount Cabinets North York
The reviews on Rockwood Kitchens North York cabinets and granite countertops speak for themself. As your #1 source for discount cabinets in North York, we offer superior quality cabinetry to contractors as well as homeowners in North York. We want nothing but happy customers so we do great work and offer only great quality, solid wood cabinets in North York at great prices as well as granite countertops. We started with discount kitchen cabinets and bathroom cabinetry but now supply affordable granite and quartz countertops in North York and surrounding areas. Great prices on discount kitchen cabinets in North York.
If you want the best quality at the best price for your kitchen or bathroom remodel, contact Rockwood Kitchens for North York Kitchen Cabinets.
Our North York Kitchen Cabinets features the following:
Exclusive French dovetail, face-frame to gable construction
Superior strength of our 5/8" plywood cabinet boxes
Great quality solid Maple doors, drawer face-frames
Cabinets come in 3 inch increments making any design possible
Solid wood drawer construction with dovetail corners
All backs, sides, tops and bottoms are 5/8", A/A furniture grade plywood
Soft close drawers and doors are standard
Great prices on North York Bathroom Cabinetry
We supply bathroom cabinetry in North York as well as high quality, low priced kitchen cabinets. Our North York bathroom cabinetry comes in many styles and colours allowing it to fit into any bathroom and your budget. We carry a full stock of bathroom and kitchen cabinets in North York so it's available right away.
North York Discount Cabinets
North York Cabinet Doors
North York Kitchen Cabinetry
North York Bathroom Cabinets
North York Kitchen Cabinets
North York Bathroom Cabinetry
North York White Shaker Cabinets
North York Cabinets
North York White Cabinets
North York Cabinetry
North York Antique White Cabinets
North York Espresso Cabinets
North York White Kitchen Cabinets
Kitchen Cabinets in North York
Top quality cabinets at very affordable prices makes getting your dream kitchen a reality. Contact Rockwood Kitchens today for your North York kitchen cabinets or shop online for all your discount kitchen cabinet needs.
We Provide in North York, ON These Services
North York Kitchen Cabinetry
North York Bathroom Cabinetry
If discount bathroom cabinetry in North York is what you're looking for the Rockwood Kitchens can help! We provide high quality affordable cabinets in North York. Come talk to the Rockwood Kitchens team about getting your free North York kitchen design and quote!
If shopping for North York kitchen cabinets then call us at 1-866-694-1755 or visit our showroom today.
Rockwood Kitchens has no relation to North York Kitchen Cabinets, are not authorized dealers for them and has no right to the trademark North York Kitchen Cabinets in any way.
North York, ON