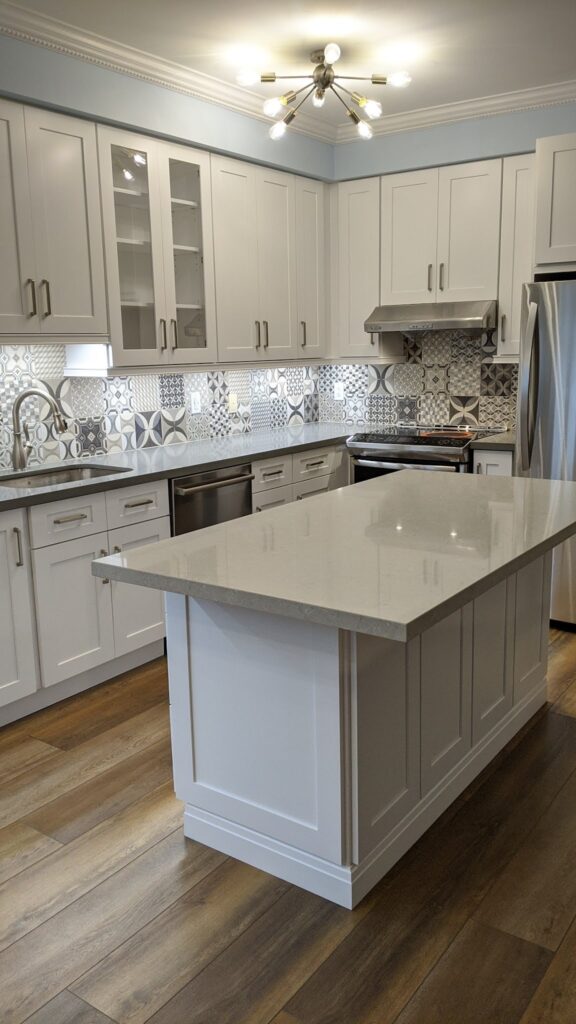 Paul's RockWood Kitchens Review
This review was posted to Google by our client Paul for our Barrie location. The original review can be found here.
"Kelsie designed our kitchen a couple of years ago and coordinated the installation project till finished. It was a total 5 star experience beginning to end. I think she moved from the Vaughn location to Barrie, so I'm putting my long overdued review here instead.

First off, Kelsie was a pleasure to work with. She attended to every design details, and was patient to listen to our feedback and made (many) adjustments until we were 100% satisfied. She even helped peacefully resolved idea differences between me and my wife – may be she can consider a side job as a marriage counselor too!

The installation crew was top notch too. From the gentlemen they sent to do a detailed final mesurement, to the installation contractor that Kelsie picked for us, and the Rockwood crew who did the countertop and final touchup. Everybody were courteous, professional, skillful, and most interestingly they all seem to say good things about Rockwood and their bosses and colleagues. That is refreshing – most often than lot you only hear workers complaining about their employer. But from contractors to employees, everyone seemed happy at Rockwood.



The cabinet and countertop offers good quality and great value. We got almost every design feature that we wanted, at about 70% of the price of competitve quotes. On top of that, we got plywood constructions and solid wood panels.

At first, we were a bit concerned about durability of the solid wood finish (the wood seems a bit softer/ligther than engineered wood), and we were warned that shaker style type panel will eventually develop gaps in the joint in solid wood. But two years later, I am happy to report that everything held up very well. There were minimal, if any, gaps between the wood joints.



The white finish turned out to be durable, easy to clean. We haven't noticed any yellowing during to UV exposure (we have LOTS of direct sunlight in the kitchen). The other benefit of the white color, is that it's extremely easy to touch up and repair. The Rockwood crew even spent some time showing me how to use filler and touch up paint to repair minor dents and scratches. The procedure they taught me proofed useful and I was able to do repairs myself with great success.



*An additional note is the Rockwood is adapt working in CONDO's. Other contractors I used have problem providing insurance and worker-comp certificates required by my condo HOA. But Rockwood produced all tha paperwork instantly. The crew are also very careful moving large boxes and equipment through elevators and tight hallways.

All in all a great experience, and we are in the process of starting another project with Rockwood."
We would like to thank Paul for leaving this spectacular review for us and are so pleased to know that he was happy with the renovation process and now, his new kitchen.
If you are interested in getting a free kitchen design and quote, please get in touch with us here!